Friday, July 11, 2008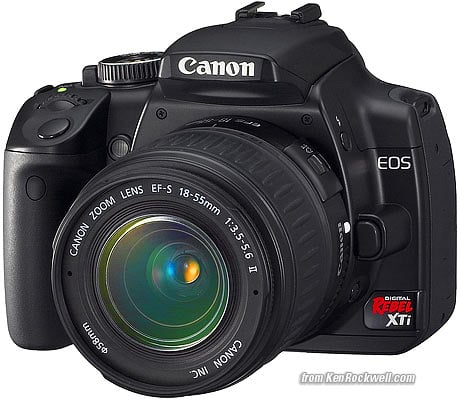 I picked up this baby a few days upon arriving in Los Angeles. I couldn't help but notice how much cheaper electronics are in the United States (compared to the Philippines), and since I wanted a step up from my old digital camera (which was an Sony 3.1 Megapixel I've had since December 2004), I thought the Canon Digital EOS 400D Rebel XTi would be a good choice for a digital photography amateur like myself.

After all, the reviews on the Canon Rebel XTi had been consistently great. A quick check online would tell a newbie like me that I should consider getting either a Canon, or one of those nice little Nikon cameras. In fact, I even wrote a few posts a couple months back.

In the end, I picked up the Canon Digital EOS 400D Rebel XTi at the Circuit City in Glendale. That, plus a 4Gb CF Card, and a nice little bag to go with it. For the duration of my month-long stay in Los Angeles, the Canon Rebel XTi has always been by my side, and it's one of my new favorite toys.

I've decided to put my amateur photography skills into good use by starting a food and travel blog. It's a work in progress- I'll announce it as soon as it's ready.

My Review of the Canon Digital EOS 400D Rebel XTi

The Canon Rebel XTi is a remarkable camera, and is a great choice for amateur digital photographers like myself looking to venture into more serious photography.

It's an extremely user-friendly camera, as it has a great range of fully automated picture-taking functions, so you can start using the Canon Rebel XTi straight out of the box, with just a quick review of the instruction manual.

(But it's always a prudent thing to read through the whole manual before reallly putting in a lot of play time with your new toy!)

The basic camera already comes with an EF-S 18-55mm - which is really a good all-around lens as it its. Later on, as you get the hang of the Canon Rebel XTi, you could purchase additional lenses for more specialized functions like give you a farther zoom, or the ability to shoot photos in dark or low-light, etc.

As I mentioned, the Canon Digital EOS 400D Rebel XTi has a lot of great fully automated picture-taking functions, with convenient pre-sets that allow you to specific shots with a quick flick of a switch- portraits, landscapes, close-ups, etc. This is really great for beginners, or for those who wouldn't mind letting the camera do all the work- which for me is something I could totally appreciate.

Much later, you could tinker around with the more advanced settings- an area which I have yet to figure out for myself, newbie that I am.

You'll definitely appreciate the Canon Rebel XTi a lot better with just a little more photography know-how- get someone to teach you, or learn from a book or online. With an interface that's easy to use and easy to familiarize yourself with, it's very encouraging for amateurs and beginners to make an effort to get into photography some more, and pick up some new theories, as well as new tricks along the way.

And the later on, you can buy even more additional accessories for your Canon Rebel XTi. Not only would you want a variety of lenses, but you might also want a Speedlite or two, a wireless remote and tripod, maybe even an angle finder and battery magazines much later on, depending on your needs as a photographer.

Thanks to KenRockwell.com for the Canon Rebel XTi photo. Check out his site for some great tips on getting the right camera and taking better pics. You may also want to visit the Digital Photography Review for more on the Canon EOS 400D Digital Rebel XTi, or the tech section on Yahoo!

Cheers, everyone!